Life Insurance in India
India has one of the lowest penetration of life insurance of under 3.5 %. But many of us have a number of policies for which we dutifully, pay premiums every year but don't know for sure if we it is useful or not. Even as a finance professional, I have made a number of those rookie mistakes, so I can totally understand how gullible one can be to those pitches.
So let us examine, some basic questions to help us guide through these decisions.
What is insurance?
Insurance contract ensures the policy holder is compensated for his loss when a certain event happens. So extending this definition, we can say a life insurance is a monetary compensation for loss of earning potential due to death or disability.
This simple definition provides us all the necessary understanding required to evaluate a policy. So let me try and break this done into a checklist.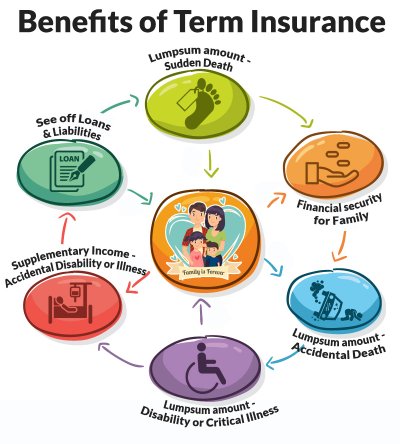 So who needs a life insurance?
Sole or primary earning member of a family. So children, home makers, hobbyists do not need insurance.
Till when?
Till the expected earning age. For most salaried people it is the retirement age of 60 years.
How much should the insured value be?
As insured value is supposed to compensate for the loss of revenue, I would consider it as an amount equivalent to the retirement funds or expense adjusted living expenses. We should adjust it upwards for needs of a growing family like, education expenses of children, marriage expenses, settlement of any outstanding loans.
Insurance Cover = Outstanding Liabilities + Major Expense Goals (Edu + Marriage of Children) + Inflation adjusted living expenses.
When should you take Life Insurance?
When you have financial dependents in your life. If you may have to support your parents in their old age, you may obtain an insurance earlier. Else it is suitable to obtain it when you have financial dependents in your life.  This could be at the time of marriage to an unemployed spouse or when you have children.
For Eg: If both you and your spouse are working and don't intend to have children, you may not require a life insurance at all.
What is a life insurance not?
A life insurance is not an investment or a tax saving scheme. Most policies that combine insurance and investment do not give even better than bank FD returns with excessive load on the insurance components. The only reason one may consider any of these schemes is, 'If you have a behavioral problem with saving for long term and need strong deterrence to withdraw funds.'
Like 'Don't mix drink and drive', it is also essential to never mix Investment and Insurance.'
Never do any investment least of all insurance for the purpose of saving tax. Your investments must be in alignment with your long term financial plan and not with your tax saving needs.
Riders: Which ones to opt for ?
Riders are small attachments to your insurance policy that allows you to get additional coverage without taking another policy. One may consider the above guidelines for choosing the rider as well. Some common insurance riders are:
(1) Critical Illness Rider – If the insurer gets any critical illness and is not expected to survive beyond 6 months, the sum assured may be paid out in advance.
(2) Total and Permanent disability Rider – Partial payment for any total and permanent disability during the policy tenure
(3) Accidental Death Benefit Rider – Additional benefits over and above insured value.
Of the several riders, I believe disability rider is definitely a very important rider to have as it can be detrimental to the earning capacity of the insurer. Illness related expenses should generally be covered by health insurance. Usually work or vehicle related accidents have third party coverage. There is little distinction in a family needs that loses its bread winner in an accident or by any other means. So I see little need for this rider.
Here is a Small 3 Step guide to buying Term Insurance from Policy Bazaar. This is also a good place to compare various plans of different service providers in a single place.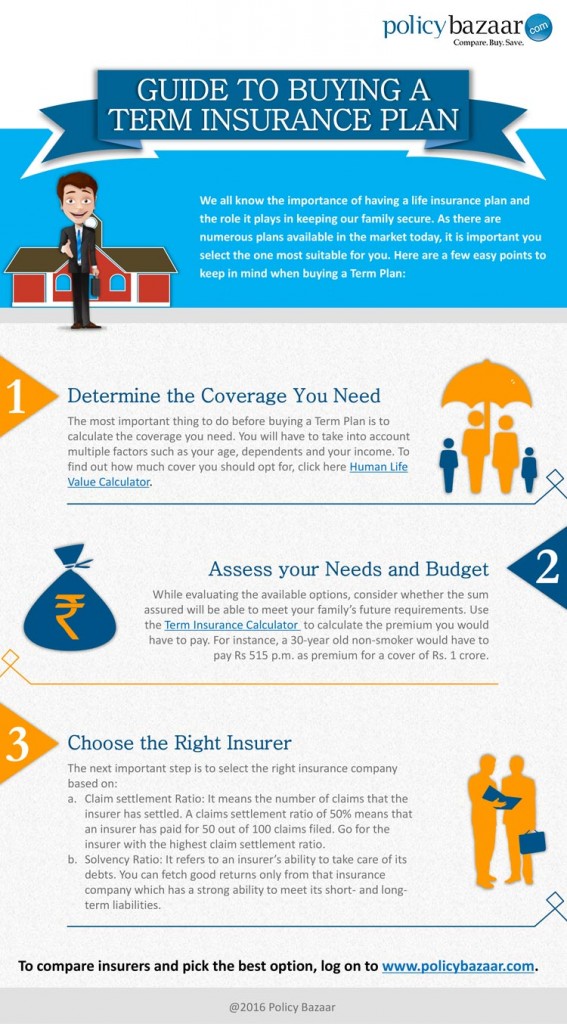 Conclusion
I can write another 20+ posts and review every insurance product on offer and you will probably not know anything more than you have learnt here. I prefer to provide basic framework, that is ever green from which one can use to learn and evaluate.
Recommendation Summary for Life Insurance: Term insurance up to retirement age with disability rider.
Losing a family member, can be a huge setback to any family. At least let that setback be not financial for your family. Plan well and obtain sufficient coverage.