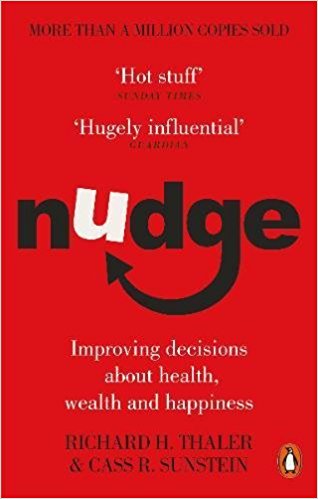 Book title: Nudge
Author: Richard Thaler and Cass Sunstein
ISBN-10: 0141040017
ISBN-13: 978-0141040011
Buy on Amazon.in | Amazon.com
Nudge is a book written by American behavioural economist and nobel prize (Economics) winner Richard Thaler and lawyer Cass Sunstein, who takes deep interest in behavioural economics and ethics in law-making and government policies.
The premise of the book is that one can highly influences choices and decisions that people make by subtly modifying the way that choices are presented. In doing so, they describe a role named 'choice architect', whose responsibility is to carefully design choices so that choice-makers can be protected from bad choices and led to good choices. Continue reading Book summary: Nudge by Richard Thaler and Cass Sunstein

We know you love books. We would you like to give two FREE audio books. Grab your trial Audible Membership with Two Free Audio Books . Cancel at anytime and retain your books.